Two of the most known market place online must be Amazon and Ebay. Now choosing the best place to sell your products can be a difficult task, since they are both well known successful sites. Across the US and the rest of the word, both Amazon and Ebay are multi-billion household companies. But being that successful doesn't mean without flaws. Probably by now you already have your winner, but trust me my conclusion might surprise you
Why sell on Amazon?
By now am sure almost everyone on the planet earth has heard about Amazon. Since Amazon was founded in 1994, it has grown into a giant eCommerce. Recently Amazon was named the most valuable retailer company, surpassing companies like the mighty Walmart.
You can find products in every imaginable category in Amazon. Actually, their mission is "to be Earths most customer cenric company". Meaning you an find anything you might require from them.
Amazon was recently valued at $50 Billion, with a stock estimation of $535 Billion (i.e By the time of this article publishing).  The world appetite for Amazon product does not show any signs of slowing down, and seems Amazon doesn't to.
But trust me, in some way, they don't even come close to Ebay!!!
Why sell on eBay?
Ebay has been on this eCommerce game for years now. They are the Pioneers of the 3rd party market place model of business. Ebay runs in 36 countries, hosting both Fixed price Items and Live auction products. Even though it may seem as if Amazon eclipse other eCommerce companies, Ebay has 25 Million sellers worldwide. Hence they are also a force to recon with in the eCommerce industry.
So the question is, Which marketplace is best for sellers?. I am going to give you a quick run-down of the most important features of both online stores. Later we will make a decision based on that.
1. Who has the lowest fees?
Most of us have heard the nickname "Freebay" form internet bullies. Just to mention this gave Ebay a bad reputation among other online stores. But the fact remains, if you compare what it cost to sell items on all the sites, the result tells a totally different story.
To view this in a better perspective, lets compare the free membership of Ebay Vs Amazon. Below is a breakdown  of different fee charges on each market place.
Monthly Charges: How much you pay to sell on the platform each month.

Listing charges: How much do you pay to list an Item.

Final value fee: Its abreviated (FVF) Its the commision percentage charged from each sale you make from the market place

Closing fee: Fee that each store charges once you sell an Item

Paypal Fee:  Store who accept paypal payment method, also pay a fee to use their service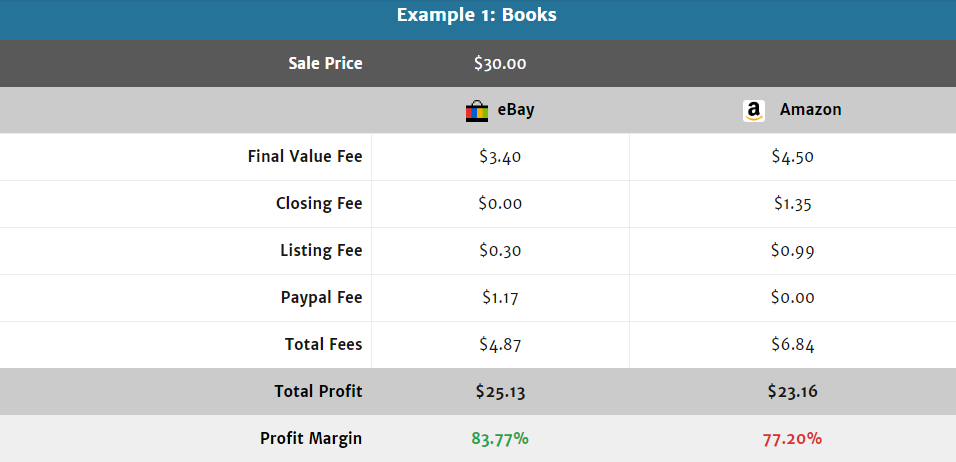 Lets check a second chart comparison. I will share a DVDs Amazon vs Ebay fee charges.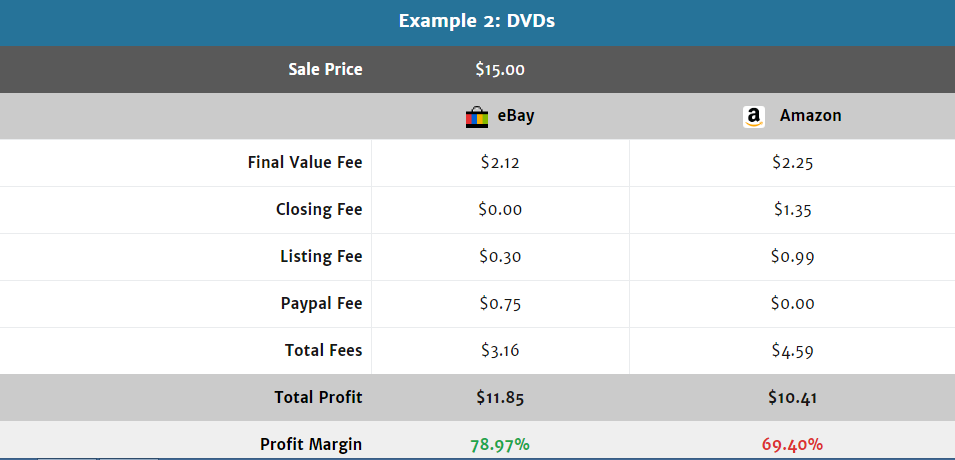 After running our two experiments, the test results tell it all. Across our boards, you can clearly see that Amazon fees are quite high compared to Ebay. For example, Amazon will charge a 15% FVF while Ebay charges 10% FVF. Also, note Ebay has no closing fee charges, while Amazon will charge a closing fee based on the type of item sold.
If you sold a media product, for example, music books etc, they charge a flat closing fee of $1.35. For non-media products, such as clothing and furniture they charge a flt rate of $0.45 plus dolla 0.05 per lb.
On the other hand Ebay charges a PayPal fee of 2.9% of the total sale price plus a flat rate of $0.30. Amazon has no PayPal charges.
The only fee that eBay charges that Amazon does not is the PayPal fee. This is 2.9% of the sale price plus a flat rate of $0.30.
Finally, from our Amazon vs Ebay comparison who is the winner? Definitely I would say Ebay carried the day. This is because, a seller on ebay will keep an average of 5.13% more that if they sold the same on Amazon.
Which site has more shoppers?
Lets now see which site has more shoppers in-terms of daily hits and how long each user spends on the site. For this statistics am going to check the Alexa statistics of each. (Again, note this data change from time to time. The chat below shows data during the publishing of this article. )

Comparing Amazon vs Ebay in-terms of traffic statistics, we can see that both site have awesome results. With a bounce rate below 25%, this indicates that most of the shoppers will view more than one item. Actually this tells that most of the shoppers spend quite amount of time on the websites.
Very few websites on the net could even come close to such statistics. One of the reason people spend so much time on ebay could be watching auctions they could win. On the other hand, people might be spending time on Amazon due to their immense catalog of Items.
So whose the winner? My choice would be a Tie. That's because both sites receive insane levels engaged traffic and relevance.
So Which  is best for sellers, or which market should I choose?
Hopefully comparing such data can help one choose the one that fits his/her current state. Also different market places will better fit different people for their own different reasons. Finally, Most online sellers choose to sell on multiple platforms, hence know better the benefits and flaws of each online store. For me,  I use the multiple online stores. Whats yours? Share your reviews and  experience via the comment section below.